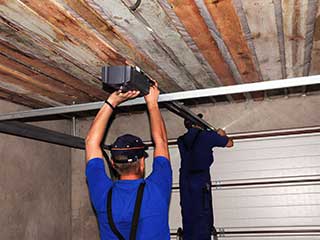 A system as complex as your automatic garage door can be affected by a wide range of problems. The great majority of them will require an expert technician's assistance, and may lead to a serious injury if they are mishandled.
Openers Can Be Tricky
Finding the root of a problem with your opener can be more complicated than it may seem. These units use both mechanical and electrical components in order to power and control the movement of your door. As a result, a lot of things can go wrong with them, but luckily, you don't have to try and handle things on your own. Our technicians can handle anything from a malfunctioning circuit board to worn out motor gears, and we'll repair or replace the problematic component on the spot without wasting any time.
The Trouble With Springs
Springs play a vital role in the operation of your garage door. They provide it with the necessary tension that allows it to rise off the floor, and they also support the weight of its panels while doing so. Therefore, when these components break, the tremendous amount of tension stored in their coils gets released, and they can whip around violently and seriously hurt any person that gets in their path. Trying to replace springs by yourself can be extremely dangerous. Not to worry, though. Our technicians are highly experienced and skilled at doing this, and we'll be able to help you whenever something goes wrong.
Track Issues are Just as Complex
Your garage door uses horizontal and vertical tracks in order to guide it up and down safely and evenly. If these components get loose and become misaligned, or if they develop some rust or bends, they can cause your door to get stuck, or even collapse. Straightening and realigning them requires a particular set of skills; something that our technicians have in droves. If you find yourself experiencing some type of track-related problem, don't hesitate to reach out to our team.
Contact Garage Door Repair Seabrook today to get professional assistance from the best service around.
We also offer:
Extension Spring Adjustment
New Opener Remotes & Clickers
Garage Door Safety Inspections