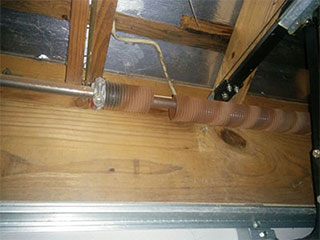 Your springs are essential when it comes to moving your door every day. They take the load of the door itself and do all the heavy lifting - without them, your door isn't going anywhere. As you'd expect from parts that bear such a lot of strain, they're built to last. However, they only have a limited lifespan, and will eventually need to be replaced.
When Is It Time To Replace?
Garage door springs will eventually wear out to the point that they break. Not only does this put your door out of commission until they're replaced, but it's also dangerous for anyone in the area when they finally do break. We strongly recommend replacing your springs before they reach this point, if at all possible.
What Should You Watch Out For?
Springs often give out warning signs when they're starting to fail. As they lose strength, they often cause your door to wobble when in motion. Other common signs are noisy operation, or a door that can't support its own weight. If your door is exhibiting any of these signs it's time to call in our team of professional technicians.
Can I Fix It Myself?
If you aren't a trained professional, it's very dangerous to work with garage door springs. These parts are under enormous pressure, and if they're not handled safely this tension can be released as kinetic energy, causing the spring to whip loose. If your springs have broken, or if you're concerned that they might be wearing out, we strongly encourage you to contact us.
Replacing and Installing
Our professionals are well-trained and highly experienced. They'll be able to quickly and reliably diagnose any issues with your door, and can advise you on whether your springs are in need of replacement or not. They can source and install appropriate springs quickly, and put your door back to working order again.
Arrange an Appointment
Whether your springs have failed or if you're worried they are starting to wear, contact our team at Garage Door Repair Seabrook today and find out how we can help.
Need more? We also provide:
Liftmaster Garage Door Openers
Broken Spring Replacement & Repair
Roll up Garage Door Maintenance
New Garage Door Installation