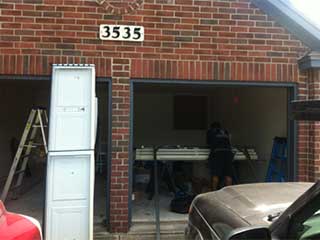 It's hard to imagine a house without a garage these days, especially in homes built in the last few decades. In more recent years though, some houses have become much narrower to accommodate for growing populations in crowded suburbs and cities.
When to Consider a Pedestrian Entrance
One thing you don't usually see with smaller homes is a separate side entrance to your home or yard from the garage. However, constantly opening and closing a huge garage door can become tedious and time consuming – this is when a pedestrian entrance becomes a great solution. However, adding a pedestrian entrance to your garage door needs careful consideration which is why it's worth looking at the pros and cons of such a system:
The Pros of a Walk-Through Door
A pedestrian entrance to your garage could make access a lot simpler and in the event of a power outage, you'll still be able to get in and out without difficulty.
Conserving energy is an additional reason to consider adding a pedestrian entrance. Additional access will help to keep your garage and home cooler in summer and warmer in winter as only a small gateway will need to be opened each time you want to enter the garage.
A walk-through may also appeal to you if you don't like the idea of displaying your garage's contents to neighbors and passersby each time you access it.
The Cons of a Walk-Through Door
If the door is used regularly or left open for extended periods, you may actually lose energy rather than conserve it. In addition, the construction components of the entrance may have more exposed gaps. There may also additional security issues to consider, any pedestrian door will need to be secured from potential intruders with an extra set of keys. You will also need to consider how to prevent the pedestrian entrance from being opened at the same time as the main garage door.
Ultimately, taking the decision to install a walk through door will depend very much on the size and layout of your property and the ways your family uses the garage. Feel free to contact us at Garage Door Repair Seabrook, we'll be happy to advise you on the options available.